Website: Winning at the Slots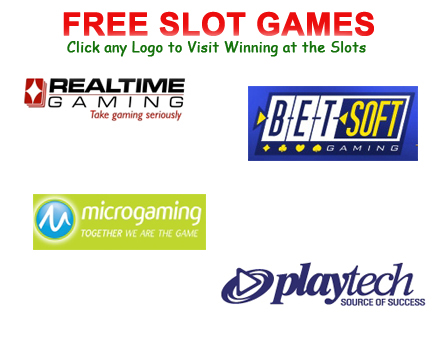 ---
Instructions: Click on a link below to play the free slots offered by that brand. Click any of the Logos above to visit Winning at the Slots
Real Time Gaming Slots: The Real Time Gaming slots offer both major and minor jackpots that you can win at the end of any spin whether the reels stop on a winning combination or not!
Free and Real Play allowed for all players worldwide. Play Over 120 Slot and Table Games.
Play Free Real Time Gaming Slots
Microgaming Slots: Our select Microgaming casinos offer over 500 slot, bonus slots and card and table games. Free and Real Money Play allowed for all visitors except USA.
Playtech Slots: Playtech offers some amazing Marvel and DC comicbook slots and some great MGM movie slots.
Play Spiderman, Batman, Pink Panther, Hulk, Rocky, Daredevil and many, many more online. Free and Real money play allowed for players worldwide. USA visitors can play for free only.
BetSoft 3D Slots: Betsoft offers some amazing 3D slots with talking sound effects and incredible graphics. Free and Real play allowed for visitors worldwide. USA visitors can play for free only, all others can play for real.